At Black Squirrel Books 9 PM http://www.blacksquirrelbooks.ca/
Tashi Dorji: Guitar
Mette Rasmussen: Saxophone
Tyler Damon: Percussion
Dusk Scored Dark (Montreal/Ottawa/Peterborough)

http://www.blackbough.ca/DuskScoredDark.html
Vicky Mettler – guitar
Bennett Bedoukian – drums
Craig Pedersen – trumpet
Mark Molnar – cello
Mette Rasmussen is a Danish saxophone player based in Trondheim, Norway. She works in the field of improvised music, drawing from a wide range of influences, spanning free jazz to textural sound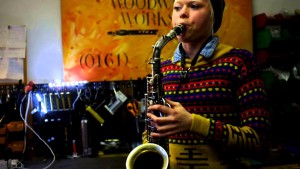 work. Rasmussen works on exploring the natural rawness of her instrument – experimenting on what the saxophone is capable of in sound and expression, with and without preparations. Much in demand, she has performed with the likes of Alan Silva, Chris Corsano, Ståle Liavik Solberg, and with her Trio Riot group with Sam Andreae and David Meier.
"Mette Rasmussen has a remarkably fluid and expressive tone on the alto saxophone. Her playing at times evokes the rich, heavenward clarity of Albert Ayler, at others the throaty roar of Mats Gustafsson. Equally, though, she's able to sidestep these influences and assert her own individual sound in piercingly high tones and controlled outbursts of free playing." – Viennese Waltz
Tashi Dorji grew up in Bhutan, on the eastern side of the Himalayas. Residing in Asheville since 2000 and soaking up a vast array of music. Along the way, Dorji developed a playing style unbound by tradition, yet with a direct line to intuitive artistry. His recordings feature improvisations that spasmodically grow along tangential, surprising paths. All references break loose during a composition, as Dorji keys into his own inner world.
His compositions drag the listener into a labyrinth of warbling tones, where each sound seems to jump out and replace the eerie silence that would otherwise occupy the atmosphere. The textures remain sustained in the reverberation as the vibration of the strings dwindle and ascend. The experience is one equally disorienting and reflective, in which Dorji's musicianship brings haunting beauty and mindfulness to the listener. After a handful of releases on various labels since 2009, Dorji presented his debut LP on Hermit Hut, the label created by Ben Chasny (Six Organs of Admittance) in 2014. Since then Tashi has released music in various formats on labels like Bathetic Records, Cabin Floor Esoterica, Blue Tapes and Marmara Records.