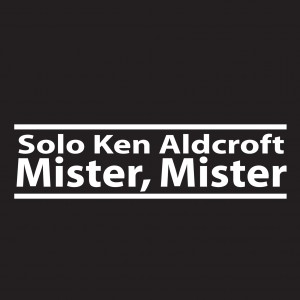 ***Note: this show is on Friday at 9pm rather than our usual Sunday at 7pm***
Friday, 27 November, 9pm
Raw Sugar Cafe (692 Somerset W)$10/PWYC
Ken Aldocroft – guitar
Linsey Wellman – saxophone
Aldcroft solo + Wellman solo + Alcroft/Wellman duo

Ken Aldcroft will be releasing his solo guitar album Mister, Mister.
With a rigorous and pan-idiomatic approach to both composition and improvisation, guitarist Ken Aldcroft is a key practitioner in Toronto's dynamic creative music scene. After establishing himself as a compelling new voice in the jazz scene of his hometown, Vancouver, Ken moved to Toronto in 2001 and quickly made connections with like-minded collaborators. Since then, his own multi-faceted development as an improvising guitarist, bandleader, composer, producer, and organizer has corresponded with the re-emergence of Toronto as an important centre for creative improvised music-making.
As a guitarist, Ken extends the jazz tradition that lies at the core of his music education. Through his commitment to a wide-open field of musical influence and to forging new collaborative ties, Ken has systematically sought new and challenging contexts in which to improvise. As a result, his playing reflects the breadth of his interests, from the extended bebop of a jazz repertory project like Hat & Beard, performing the music of Thelonious Monk, to the language of free improvisation that he explores in collective improvisational settings such as ongoing collaborations with NY bassist William Parker and saxophonist Andy Haas or one off performances with artists such as Wilbert DeJoode, Joe McPhee, John Oswald and Lori Freedman to name just a few. This variety comes into its fullest view with Ken?s three solo recordings; "Vocabulary: Solo Guitar Improvisations" (2009), "Home: Solo Guitar Compositions" (2011), and "Mister, Mister" (2015), they are passionate musical reflections on his ongoing development as an improvising guitarist.
An active member of the Ottawa music scene, Linsey Wellman is known as a creative and spontaneous improvisor on the alto and soprano saxophones, the alto and standard flutes, the clarinet, and the bass clarinet. Ever adaptable, he has plied his trade with Sun Ra tribute Rakestar Arkestra, art-punk ensemble Fet Nat, the Craig Pedersen Quartet, JUNO nominated and Polaris Prize longlisted calypso outfit Kobo Town, and Gamelan Semara Winangun, all while taking part in countless improvised music and jazz ensembles. He has played and/or recorded with such artists as Scott Thomson, Nicolas Caloia, Yves Charuest, Jesse Stewart, Nonoko Yoshida, Yves Lambert and Ellen McIlwaine. He will be releasing his second solo saxophone recording in early 2016: Manifesto, recorded live at DAÏMÔN, (Hull).
He is co-founder and co-curator of the Improvising Musicians of Ottawa/Outaouais (IMOO) concert series.
"Unadorned except for his saxophone, Wellman uses repeated and carefully divided lines to vibrate split tones which are somehow both polyphonic and tonic. Using circular breathing he produces equivalent note clusters and glissandi that unroll as if his saxophone is a perpetual motion machine yet subtly vary in pitch, shading and emphasis." – Ken Waxman