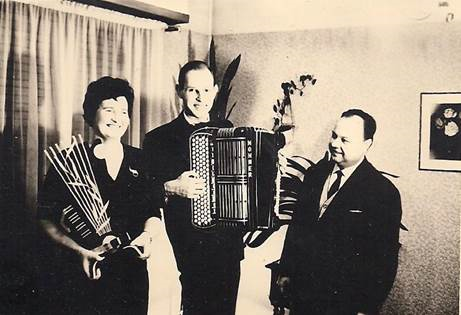 ***NOTE: SPECIAL LOCATION – Black Squirrel Books (1073 Bank Street – near Sunnyside)***
Bernard Stepien – David Broscoe – Scott Warren
This will be a two-part concert:
1st set: Bernard Stepien Accordion Solo inspired by this year's exceptional winter
2nd set: Accordion Conspiracy: Stepien/Broscoe/Warren vs the Eindhoven in Dialoog
Accordion Solo:  Accordion happened to be Bernard Stepien's first instrument, initially in a classical and folkloric music context. Back in the '60s, Stepien heard Ornette Coleman and started to play accordion in his then proto-harmolodic style. Stepien's accordion, a Hohner Morino model from the late '50s, has a keyboard on the left hand that is identical to the one for the right hand but with smaller more compact buttons. This feature enables to play harmonies in a similar way as on a piano. But these harmonies are not the traditional ones. Instead and thanks to the fact that Stepien had the immense privilege to study with the great master Cecil Taylor in 2001 in New York City, the harmonies are more of an in-depth exploration of sounds rather than chords but giving this overall sinuous sense of harmony, like harmonies without traditional harmonies? Another key influence was from Texas saxophonist Billy Robinson that showed him how to produce unusual harmonies by superposing seemingly unrelated traditional chords but with a strong rationale. The accordion itself is making a strong come-back these days. It can be found way out of the traditional folk music context. Maybe this is because its sound is intriguing and its capabilities intriguingly ambiguous. It is a piano without notes decay or an organ with controlled notes decay capabilities and moreover, it never runs out of breath…
Accordion Conspiracy vs Eindhoven in Dialoog:  Accordion Conspiracy is an extension of Bernard Stepien and David Broscoe late '90s pure saxophones project then called Breaths. Saxophonist David Broscoe is a master in multi-phonics. Drummer, percussionist and samplerist Scott Warren has been associated both with Bernard Stepien and David Broscoe either in the Bernard Stepien's A Very Ayler Christmas project and the Rake-Star Arkestra, both devoted to the exploration of unusual musical fusions. Warren has been exploring the natural rhythms of casual sounds for a long time, amassing a sizeable collection of found objects along the way and attracted by the music found in spoken words. The Eindhoven in Dialoog project is a well-structured social capital project of the city of Eindhoven in the Netherlands that consists in bringing together plain ordinary citizens in round tables discussions in a structured way that includes training.
https://youtu.be/kzPG-WALNFQ?list=PL0C4BD1D6E5A4ED7C
The strategy will consist in simultaneously contributing and extracting sounds and rhythms to and from these recorded conversations.