Our bimonthly concert series is held every other Sunday (usually the 1st and 3rd Sundays of the month) at 7pm at Umi Café (610 Somerset Street W, Ottawa). Admission is always a suggested donation of $5 or pay what you can. For a full list of past and upcoming concerts, click here.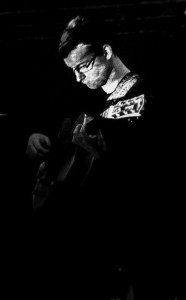 January 29, 2012: #43 – Saul Goodman
Beatlash (Théan Slabbert) – guitar
Dolla Menu (Chris Burling) – percussion
Saul Goodman is an Ottawa-based musical duo comprised of Beatlash (guitar) and Chris "Dolla Menu" Burling (percussion). They met while studying composition at the University of Ottawa, and started playing together regularly. Their music is largely spontaneous, influenced by the sounds of folk, hip-hop and post-rock, with elements of noise, minimalism and experimental music. Find Saul Goodman online at: saulgoodman.bandcamp.com
Click here to RSVP on facebook and let us know you're coming to concert #43
February 5, 2012: #44 – Gillian Kirkland and Brandon Wint
Gillian Kirkland – accordion, voice
Brandon Wint – spoken word
Philippe Charbonneau – bass
Michel Delage – drums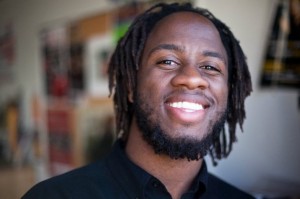 Brandon Wint is an Ottawa based writer and performer of spoken word poetry. Since discovering his aptitude for spoken word in March of 2008, Brandon has dedicated his life to uncovering the inherently beautiful and poetic elements that exist in every part of life. As a poet, he is also deeply influenced by the stories and images that explore the human condition. He is therefore often compelled to investigate the themes of mortality, confusion, love and fear in his writing. Brandon has been a member of two National Championship winning poetry slam teams, and has toured the country extensively as a performer.
Gillian Kirkland is a singer, composer and accordionist. Her music is sometimes described as Neo-Cabaret with influences ranging from classical European to American folk and jazz traditions. Before moving to Ottawa in 2009, she lived for many years in Montreal where she was a member of the experimental vocal ensemble Mruta Mertsi. She has been involved in collaborations with musicians of various persuasions as well as storytellers, poets, dancers and playwrights. She performs regularly across Ontario and Quebec and is very exited to exchange with other Ottawa area improvisers in this unscripted event. Find Gillian online at www.gilliankirkland.net
February 12, 2012: #45 – Vartan Mamagonian
Patrick Breiner – tenor saxophone and voice
Patrick Breiner performs his solo saxophone works under the alias
Vartan Mamigonian, and fittingly so. His body remains intact, but it is inhabited by another type of being altogether. He and his saxophone are a conduit – piping the energies of the cosmos, geological time, and neurological impulse through seven pounds of conical metal. Find Vartan Mamagonian online at: www.VartanMamigonian.net