July 29, 2012: #57 – Rachel Therrien
Rachel Therrien – trumpet
with Marino Vazquez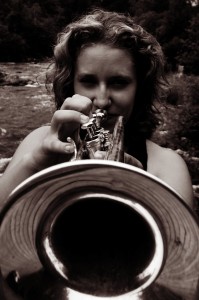 In a very short time, Rachel Therrien has distinguished herself as trumpeter not only in the Montreal music scene, but internationally as well. Still in the upstart of her career, her vast experience has included performances with renowned artists such as Vic Vogel, Remi Bolduc, Oliver Jones, Carole Welsman, Anancaona de Cuba, Klimax, Michel Legrand, Ginette Reno, Alex Bellegrade, Sophie Desmarais, and more.
Rachel is perseverant and works relentlessly at making her dream come true. Her musical journey stands out among many artists of her generation. In 2008, Rachel spent 9 months at the Superior Institute of Arts in Cuba to develop her technique and study with great Cuban musicians such as Elidio Chappotin, Yasek Manzano and Gorge Rubio. She completed her Bachelor's degree in Jazz interpretation at Université de Montréal in 2010 under the direction of her trumpet professor, Ron Di Lauro. Since then, she directs her own new project. After their 2 concerts at the Havana's Jazz Festival (Cuba), they released an amassing album called "On Track" (Launched on setpember 8th 2011).
Original compositions from Rachel Therrien at her best, accompanied by an ensemble of the best emerging musicians in Montreal! Their first album "On Tack" came out on last September 8th, and since, they are multiplying the critics and articles. The first song of the album "Yremaya à Montréal" from Rachel Therrien, got on 1st place of Radio-Canada's Palmares Jazz of espace musique!
Visit Rachel online: http://www.racheltherrien.com/
Click here to RSVP on facebook and let us know you're coming to concert #57.